The WHMCS billing system has one of the most intricate reporting functionalities of any billing system currently on the market. Providing over 23 different types of reporting, you can dice and slice the reports to meet any of your clients' requirements. You will also gain valuable information on how your business is doing in the industry with their reports on your billing system. Some of the reports currently available to you on WHMCS are aging invoices, annual income reports, daily performance evaluations, client statements, income forecasts, sales categorized by product, top 10 clients by income, and support ticket replies.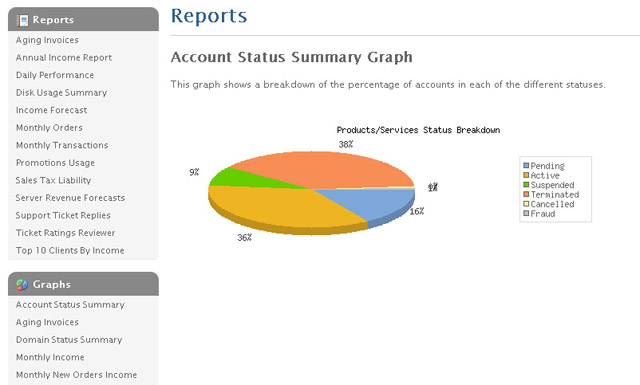 Additionally, if a report that you are looking for is not available to you, then you can create your own reporting module easily on your billing system with just a few customized tweaks in the template that WHMCS provides. You can have your own reporting up and running in less than two hours, and this is excellent for anyone that needs insight into their business operations and the ideal virtual environment to attract more customers. You can learn a lot about your business by simply comparing a few different elements that are found in the itemized reports available on the WHMCS billing system.
It is very simple to access your reports, you can click on all of the existing reports from the modules/reports folder, and you can also access any of the reports that you create just as easily. If you need more information on your billing system, WHMCS is the best resource on the market. By using your business's reports, you can improve your business so that you can really excel in the marketplace. Each of these reports will provide you with valuable information on your clients, your business productivity, and the efficiency of your website, and to create lasting growth in your company, you need detailed information on your operations that you can view at any time.