Licensing Plesk is the first step to completely automating many of your daily tasks and efficiently managing your server and web hosting business. The Plesk control panel has been systematically upgraded with the newest and most advanced features that will give users the ability to get more out of their hosting experience. Administrators are given special privileges to completely customize the site as they see fit with a Plesk control panel license so that they can optimize and secure their servers and make their business more productive.
A control panel not only gives administrators the ability to adequately secure the server, it also offers the capability to enhance your hosting business with an array of exciting features and applications that are unique to Plesk. With a Plesk license, you will be able to expand and grow your business with flexible options and scalable resources. Finding a good control panel is key to your ongoing success, and that's why you need to look into purchasing a Plesk license.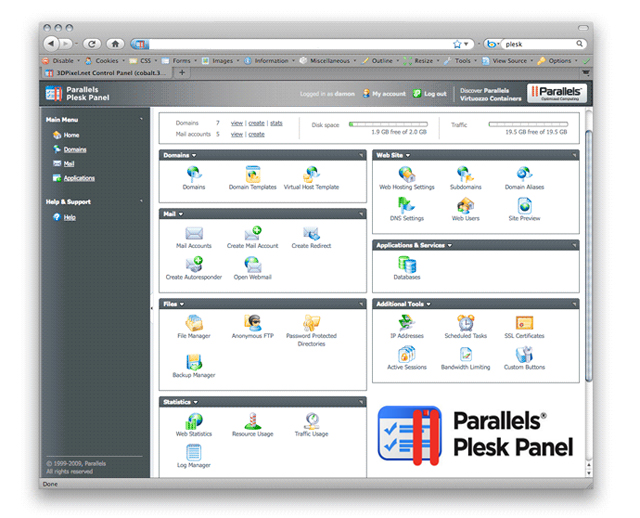 Licensing Plesk will give you the ability to upgrade in a snap and provide feature-rich content to your customers. In addition, Plesk is one of the leading software programs in terms of support, tutorials, and learning programs that can get you familiar with the program and help you learn the different functions. Plesk from Parallels offers a myriad of tools for your sites such as database and DNS management and an intuitive, user-friendly interface. With a Plesk control panel, you will have everything covered with this one unique program.
With a Plesk control panel license, you will be able to migrate your current hosting information seamlessly from most existing control panels. You will also be able to take advantage of the innovative health monitoring system and many of the out-of-the-box security features with a Plesk control panel license. The Plesk control panel offers you the pinnacle of optimization, security, and support for all of your web hosting needs.