A ClientExec license is the perfect solution to any problems related to billing system management, organization, and efficiency. If you find that you have to spend too much of your time managing your system, tracking your invoices, creating accounts, and other billing related tasks, then ClientExec will take the weight off of your shoulders. ClientExec is billing software designed to automate certain tasks and manage your billing systems more effectively.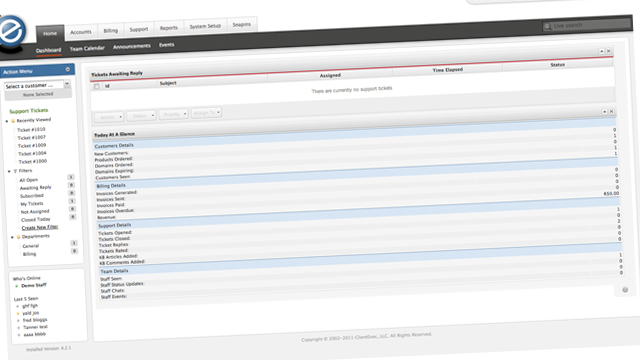 A ClientExec license will allow you to more efficiently run your business and make sure that you have comprehensive support that will give you information, tutorials, and detailed developer support every step of the way. ClientExec will also give you the ability to streamline your customer management needs by using their state of the art software. ClientExec undergoes upgrades often, and the new version of ClientExec that was recently released offers insight into the innovation and development of the software. The new release of ClientExec boasts a new, intuitive user-interface and the ability to reduce direct costs to your business by combining payments so that you can reduce gateway charges.
With a ClientExec license, you can manage your billing support and service integration needs all from ClientExec's easy to use customer management interface. This will help your business run more smoothly and free up your time so that you can create promotional campaigns for your existing clients and advertisements so that you can get the word out about your business and attract new clientele. Many people are looking for comprehensive solutions to all of their website needs, and with a ClientExec license, you have won a big part of the battle by just integrating an efficient billing system management program like ClientExec into your existing control panel.
In summation, ClientExec gives you everything that you need to fully automate your billing system, and a ClientExec license can be purchased from the billing software provider or from a reseller.