ISPManager is well known for its flexibility and its ability to run on a variety of Linux distributions. ISPManager definitely packs a serious punch, and other control panels like Plesk are having a difficult time keeping pace. With a Plesk License, you will need to pay a much higher price to license the software; however, an ISPManager license will allow you to gain the same control over the management aspect of your control panel than the more expensive varieties. Additionally, you can accommodate people that do not speak English by purchasing an ISPManager License. You can easily change your language and obtain documentation directly from the ISPManager website that can easily be written into your native language.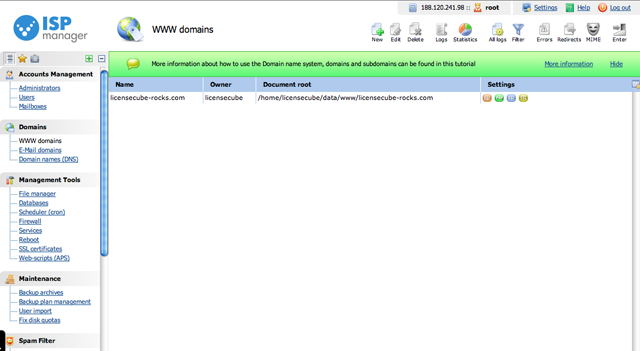 In contrast to many of the other control panels on the market, ISPManager uses a much lower amount of resources than other control panels like cPanel. ISPManager is even said by many developers to consume fewer resources than one of their biggest rivals, Plesk. ISPManager also has what many control panel providers like Plesk simply don't offer. You can find around the clock support with an ISPManager license so that you can get answers to any questions that you may have. This will allow you to better operate your systems so that you can take full advantage of the management features offered on the ISPManager control panel. Support 24 hours a day 7 days a week is really beneficial if you ever need to resolve any conflicts that arise on your control panel, and you will not find this type of comprehensive support with Plesk.
Additionally, a Plesk License will not allow you to access the advanced API offered by an ISPManager license. The API will allow you to have better oversight and control over your resources and the relationship that you have with your clients so that you can more effectively manage your virtual environment.