A Fantastico license can help you push your media envelope to the max by giving you the tools to install CMS (Content Management System), blogs, discussion boards, etc. Communication is one of the most important elements of a web hosting or web development business, and with Fantastico Deluxe, you can make sure that all of the innovative scripts and applications are at your fingertips, and with the click of a mouse, you can install any script offered by Fantastico quickly and easily onto your websites.
A Fantastico license will give you access to exceptional script installation software, and Fantastico Deluxe is the best product on the market that will meet your needs and give you the option to install the most available scripts onto your system. You can purchase a Fantastico license on a monthly basis so that you can find out if the services provided on the software will meet your needs. With script installation software, you are increasing the amount of products and services that you offer your client, and this will maximize your revenue and give you the chance to draw in new clients with an array of adaptive, customizable features for their website.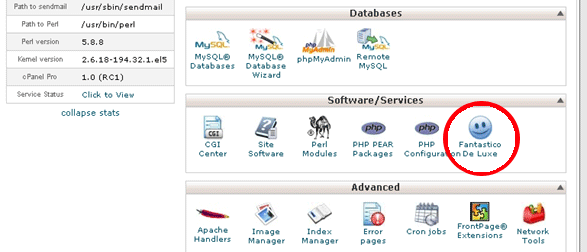 Fantastico is one of the leading script installation software programs on the market, and the recently updated Fantastico Deluxe really takes script installation to the next level. Now, with a simple point-and-click, you can have your blog, CMS, portal, discussion board, or image gallery installed within seconds. You can also use a Fantastico license to gain access to some of the best e-commerce carts on the market. There are so many options when you incorporate script installation software like Fantastico Deluxe into your system, and you will find that your clients are excited and motivated after finding out about all of the new services that you are providing them with.