DirectAdmin is one of the most user-friendly web hosting control panels that has ever been introduced into the market. DirectAdmin has been around for years, and they have mastered the art of control panel development by allowing web host beginners to easily get started and grasp all of the functions of the software. Since a DirectAdmin license is much less expensive than other control panel programs on the market, it is perfect for start up businesses that need to add functionality, flexibility, and appeal to their hosting environment.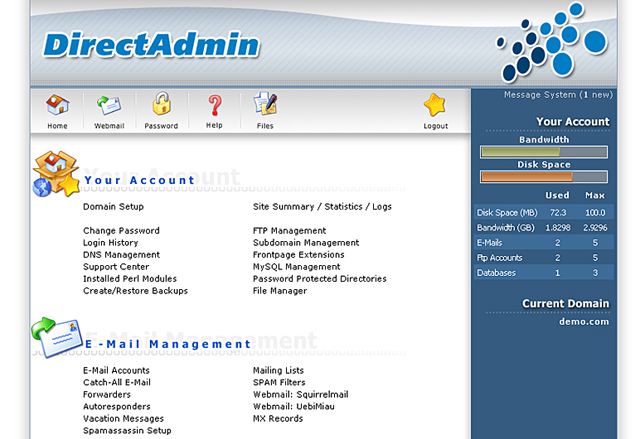 DirectAdmin control panel's interface allows you to view stats of your websites, and you are sure to find these useful when you need to get down to the details. DirectAdmin is made with scalability in mind so as your business grows, DirectAdmin will be able to adapt and provide you with the services that you need to support an expanding business. It is easy when you are first starting out, and DirectAdmin is powerful enough to handle the biggest tasks that it has ever been forced to face. DirectAdmin is one of the most dynamic and powerful web hosting control panels on the market.
A DirectAdmin license is extremely cost effective, and the simple layout of the control panel makes it effortless to use for hosting providers or anyone else that is in need of a control panel. By ordering a DirectAdmin license, you can access all of the features that you need to get your business up and running, and in very little time, you will be able to understand everything that this program is capable of completing. A control panel is excellent for businesses that are in need of automation services, and DirectAdmin will allow you to effectively manage your virtual environment while also providing an efficient and user-friendly experience for your customers.