Plesk Billing gives you a number of options to diversify your business and add additional products and services so that your customers will have more variety when using your site. The latest release of Plesk Billing is brimming with new features, and they have drastically improved some of the key features on the site as well. You can use the Plesk Billing software to automate and streamline your billing system so that it is easier to manage and is integrated seamlessly onto your existing website with your chosen design and branding images.
Plesk Billing now gives you a new level of support so that the Plesk Billing administrator can create new reseller accounts. This can in turn promote your business by allowing more assigned resources to be resold to other clients. Plesk Billing really makes things simple. You can manage resellers and clients directly with just the click of a button.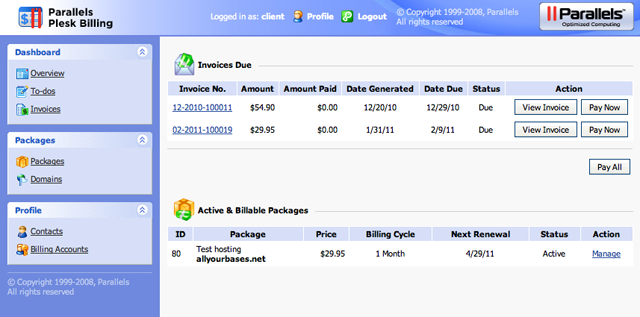 Additionally, the ability to provide overselling support for resellers will allow you to increase the profitability of your clients' sites. Plesk Billing will help grow your hosting revenue by allowing you to offer reselling to your clients. Plesk Billing offers you a lot of opportunities to expand your business and offer the most versatile services to your client. With the time that you will save automating your billing system with Plesk Billing, you can promote your business through advertising and marketing or other promotional campaigns to increase exposure.
Another innovative feature of the Plesk Billing platform is that you will now be able to use a single sign on to login to Plesk Billing and manage your billing system. Signing on with one secure login can reduce the amount of time that you spend managing your billing system. If you are looking for a way to seamlessly automate your billing system, then Plesk Billing is the option that will give you the adaptive features, customer support, and reseller capabilities that you need.