Many web hosting companies and other business niche industries want to find a way to accelerate their business growth and stand out from the competition. In addition to the many features that you can utilize on cPanel, there are many exciting plug-ins like WHMSonic and streaming Auto DJ to enhance your virtual environment and allow you to offer more to your customers. WHMSonic gives you the ability to stream live audio to your websites and use the revolutionary AutoDJ to customize streams with your own intro messages, playlists, and backup files on the fly.
The WHMSonic plug-in allows you to create your own Internet radio station to stream from your website. The AutoDJ system for WHMSonic gives you unlimited bandwidth and playlists as well as Shoutcast DNAS. You can support all media players with the WHMSonic AutoDJ System, and since the features allow you to customize your streaming radio and playlists, you can have multiple radio streams that play different genres of music at the same time.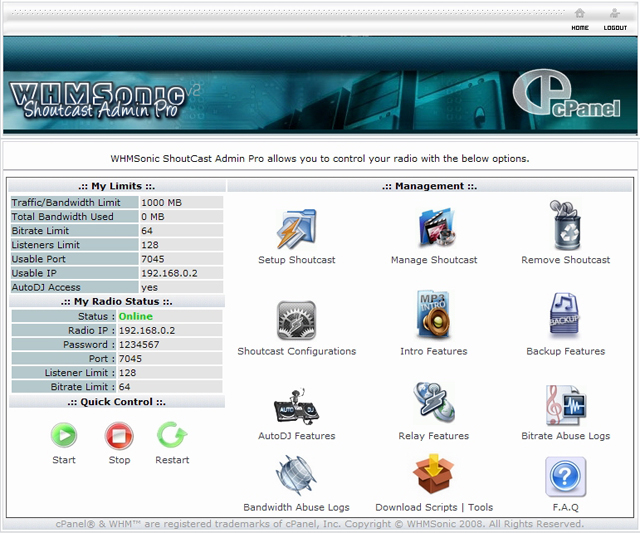 WHMSonic with the auto DJ streaming feature are bursting with features and functionality so that Shoutcast can provide Internet hosting providers and resellers with a way to offer new services to their customer base. Streaming audio has never been easier to integrate into your existing cPanel control panel. The Auto DJ streaming on WHMSonic will give you the best features to add customized streaming Internet radio directly to your website.
If you are looking for a way to spice up your existing website and offer a more exciting virtual experience for your customers, then adding WHMSonic and AutoDJ to your cPanel system will give you the opportunity to customize and create your own playlists and play streaming music of different genres directly on your websites. With WHMSonic and cPanel, you will have the latest technologies at your fingertips to help get your started quickly and easily using this exciting auto DJ streaming service.