When looking for a billing system, you want to choose one that is packed with a wide array of functional features so that you can have the most comprehensive automated billing system environment. This can make your business much easier to manage, and you can store data and information in one central location and access it whenever you need it. The best part about the Blesta billing system is that the interface is extremely easy to navigate and you can enjoy a wide array of specialized reports that detail how your business is operating.
If you need an expandable billing system management and help desk software program, Blesta will meet your current needs and can grow with your business as you gain more traffic to your site and generate more long term business. Blesta can provide you with a comprehensive billing solution that you can use even as your business expands and so much more.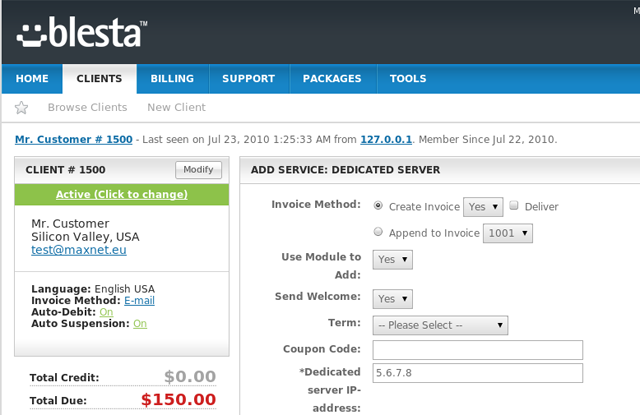 Blesta staff members are steadfastly dedicated to being an open, modular management system, and the features and help desk software are very developer friendly. They do not encode many of their files including modules, gateways, and templates so that you can customize and create your own specific system tailored to your needs. Blesta is by far one of the most developer friendly billing systems on the market, and this has really allowed them to excel since developers freely embrace the platform.
Another great thing about Blesta billing system and help desk software is they have over 22 payment gateway modules, and it is an impressive display that shows how Blesta is willing to work with almost any gateway provider. Furthermore, Blesta can be integrated with cPanel, Plesk, DirectAdmin, and many other control panels because of the automation modules that allow for easy integration and migration. If you use one of the major control panels, you can rest assured that Blesta billing system and help desk software will be compatible.