Choosing the right billing system for your specific needs without choosing one that is overly complicated can seem like a difficult task.  There are a number of WHMCS alternatives available to you, which can prove to be both helpful and confusing.  A billing system that is overly complicated could take days or even weeks to fully implement into your business, and this can certainly be costly.  On the converse, however, if the feature-rich nature of WHMCS is not working for your business or if you find that it is lacking the openness or specific features that you require, continuing to use the system may be an equally inefficient choice.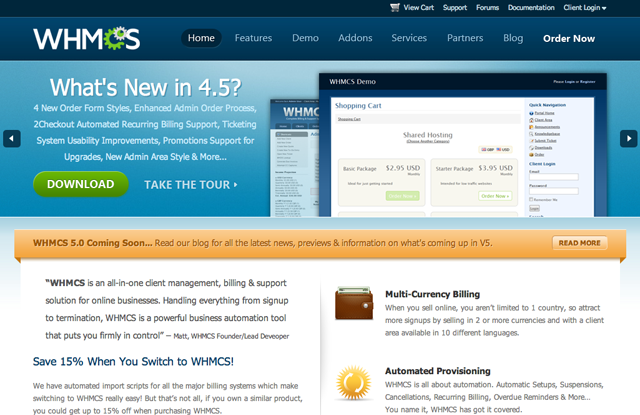 A WHMCS alternative may indeed be the best way for you to go with your business, but you need to know where to turn.  Do you want a self-hosted application, or are you looking more for a SaaS (software as a service) hosted solution?  You will find that both solutions are readily available to you, making it a bit easier to find something specifically tailored around your needs.  WHMCS is a top billing system program, but depending on your needs, you may find more benefit from the use of Blesta, which offers accurate reporting graphs, simple invoicing, and more, or from ClientExec, which provides support for more than 12 control panels, easy customization, popular smartphone apps, and an array of other features.
Choosing billing software that makes a great WHMCS alternative can be easy if you understand the needs of your business.  SaaS and self hosting options can both be quite easy to integrate into your site, and you will find that the most popular options are indeed quite feature-rich.  Whether you need something that is fast and easy to integrate and understand or complex but detailed features are your primary concern, our customer support team can help you find the right WHMCS alternative for you.