LicenseCube has worked tirelessly to form an action plan with ClientExec, and we are now an official distributor of ClientExec licenses. As a ClientExec partner, we are not able to offer discounted rates on the software license so that you can find the most affordable price on your license. In addition to providing all of the ClientExec features and services, our licensing program will also allow you to take advantage of the LicenseCube API. The API capabilities that you will be able to take advantage of with a software license from LicenseCube are unparalleled, and it will really allow you to take the licensing services to the next level.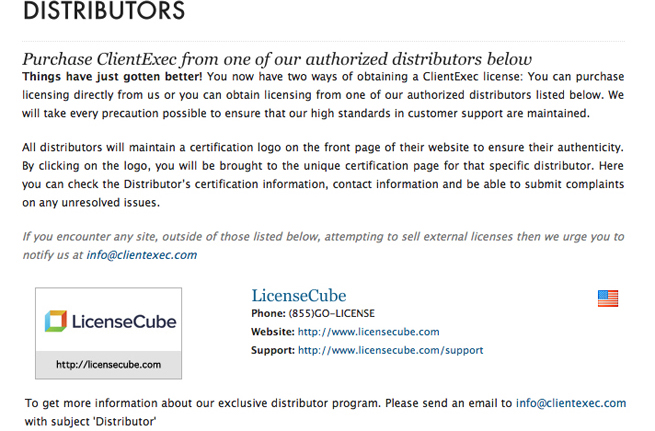 With the LicenseCube API, you will not be able to order any license that you need and that we offer so that you can easily create the virtual environment that will allow you to manage efficiently, automate, and streamline your business tasks. The LicenseCube API allows you to place orders without manually logging into the site every time you need a new software license. Additionally, the LicenseCube API will give you the opportunity to use pre-made modules that will snap into your billing system, so that you can become a license reseller in virtually 20 minutes!
The LicenseCube API and becoming a ClientExec partner has really allowed us to enhance the services that we provide so that we can better serve your needs. If you are looking for a specific type of license, we are ready to accommodate your needs. We offer you the ability to streamline your business so that you can seamlessly integrate the control panel, billing system, and auto-installer features that you need quickly and easily. At LicenseCube, we are dedicated to providing you with the support that you need to fully take advantage of all of your opportunities. As a ClientExec partner, we are now able to offer you the full feature set at a discounted rate as well as the ability to use our exclusive LicenseCube API.