Softaculous is one of the most powerful and dynamic auto-installers on the market. Since its release, Softaculous has truly excelled at its market share, surpassing even some of the more established auto-installers such as Fantastico and Installatron. This program is so versatile and diverse that it will provide you with the ability to install over 175 different scripts onto your existing websites in a myriad of different categories. You can even use Softaculous free to install 60+ scripts, but if you license the premium Softaculous auto-installer, you will have access to every script available through the Softaculous program.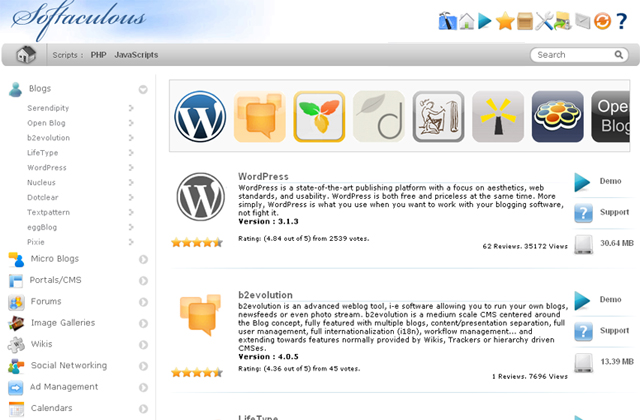 Softaculous has additional benefits that other auto-installers do not because it has the most comprehensive variety of scripts available within its system. It is a much more cost-effective choice for web hosting resellers and businesses. The program's interface is wonderful, and everything is extremely well documented making the scripts and applications super easy to find and understand. You can expand Softaculous in a number of ways because it works with open-source applications, and you can get extensive support for your control panel.
The support offered by Softaculous is one of the many features that make the program much more functional, versatile, and user-friendly than its competitors. Some competitors are still only supporting one control panel, for example, Fantastico only supports cPanel, but Softaculous shows its true colors again for being the most dynamic, excellent auto-installer on the market by supporting many control panels like cPanel, Plesk, DirectAdmin, H-Sphere, ISPmanager, and InterWorx. This makes it the most used auto-installer on the market.
The benefits of using Softaculous are multi-faceted since you cannot quantify the increased satisfaction of your clients with your services. You may also be able to generate more new clients by offering the Softaculous scripts for them to use and customize.