WHMCS is the quickest way to get your cPanel startup hosting company off the ground and active online. You can find the resources and devices that you need to automate and manage your billing system, and WHMCS is one of the most advanced software programs on the market. A WHMCS license will allow you full access to the most revolutionary and exciting features offered by WHMCS. This billing software has multiple uses, and in addition to automated account creation, invoicing, support systems, domain registration, and security features.
With a WHMCS license, you can manage your system with support and service integration only found in billing software. WHMCS support software has an easy to use customer management interface that makes it even more productive for your business to integrate the new software into your existing control panel. Millions of people use WHMCS, and the developers have designed the software so that you can integrate third party applications with API and enhance your interface with new scripts and applications. You can even integrate custom forms right into your website made directly from the WHMCS administration center.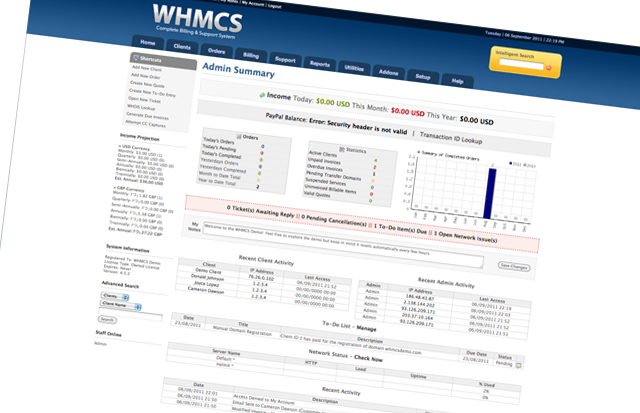 In addition, you can install SSL certificates on your system, support multiple languages, automatically back up your database, and configure specific e-mail alerts. With a WHMCS license, you can allow your creativity to run wild because the open source platform is extremely developer friendly. You can create custom modules and distinctive new features with customizable templates and unique gateway modules. There are so many different options to choose from when you use WHMCS, and a license is the first step to installing your billing software. WHMCS support software will be able to give you the best options for revitalizing your billing system and managing your business's needs more efficiently.
With WHMCS, you will have a multi-faceted support system available to help automate and manage your every need.