If you need a simple and effective way to improve cPanel client management, then WHMCS is the best tool on the market. You can use this software to give your cPanel customers a more customized and complete virtual experience. The WHMCS billing system offers you so many features in categories like billing and invoicing, account creation, support tools, customer service, domain registration, and many more. If you are in the market for the best billing system software program for cPanel client management, then WHMCS is the obvious choice. With years of experience providing excellent customer support and advanced features, you can increase your business's potential by adding WHMCS to your cPanel control panel.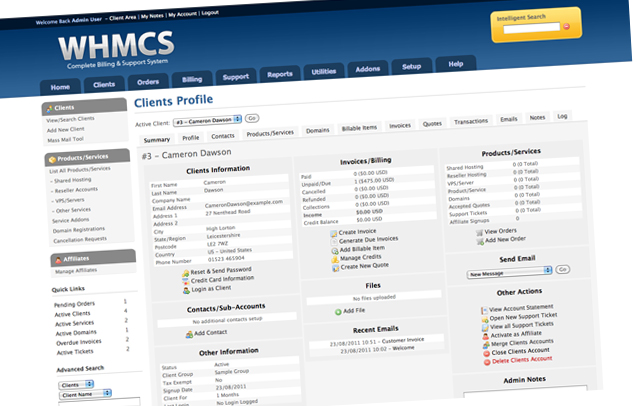 Your virtual environment will run completely automated with WHMCS and cPanel. You can provide your clients with a streamlined purchasing process and customized invoices that showcase your branding images and logo designs. In addition, WHMCS has been programmed so that it integrates seamlessly with the cPanel platform. cPanel client management has never been as effective as it is with WHMCS. You can use these two programs together to create the best experience for your customers and make the process of maintaining and organizing your data much easier.
By licensing WHMCS and cPanel, you can obtain the optimal level of cPanel client management, and you can use the features to propel your business to the next level. Both WHMCS and cPanel are very easily scalable, and the features can be adapted to meet the specific needs of your business. The control panel market has a lot of great programs, but there are not many that are as powerful as WHMCS and cPanel. For a completely automated cPanel client management system, integrating WHCMS into your control panel will give you maximum benefits and allow you to streamline your tasks.